Your workforce is global.

The mental health support you offer should be too.
Discover how LifeWorks can support your people around the world with more services than ever before.
The most comprehensive global mental health & wellbeing solution.
LifeWorks solution combines modern employee assistance, wellness, recognition and incentive programmes into a unified mental health & wellbeing solution that engages with 100% of your people, whether they are 5 or 5,000 miles away.
LifeWorks' preventative services now available globally
CareNow
Self-guided Cognitive Behaviour Therapy (CBT) digital programmes
Interactive content, exercises, assessments, podcasts, videos

Supporting with Anxiety, Depression, Stress and more
Total Wellbeing Index
Dashboard providing insight on the organisation's total health
Reports and analytics on

the health, productivity and engagement of an individual and the organisation

Assessments measuring the four pillars of employees' wellbeing
Challenges
Health, wellness and fitness challenges for teams and individuals
Uses gamification to motivate and engage employees
Integrated with wearable fitness technology
Recognition & NewsFeed
Peer-to-peer recognition visible to everyone in the company
Gamified leaderboard to encourage community recognition
Share team news and announcements to keep employees connected and engaged
At LifeWorks, we believe employees everywhere should have access to the same level of mental health support.
Our Essential EAP solutions cover 180 countries, supporting you and your employees in and out of the office, wherever you are.
We are now offering the Total Wellbeing Index, CareNow, Challenges, Recognition & NewsFeed features in 33 languages across 39 countries, with more to be announced this year.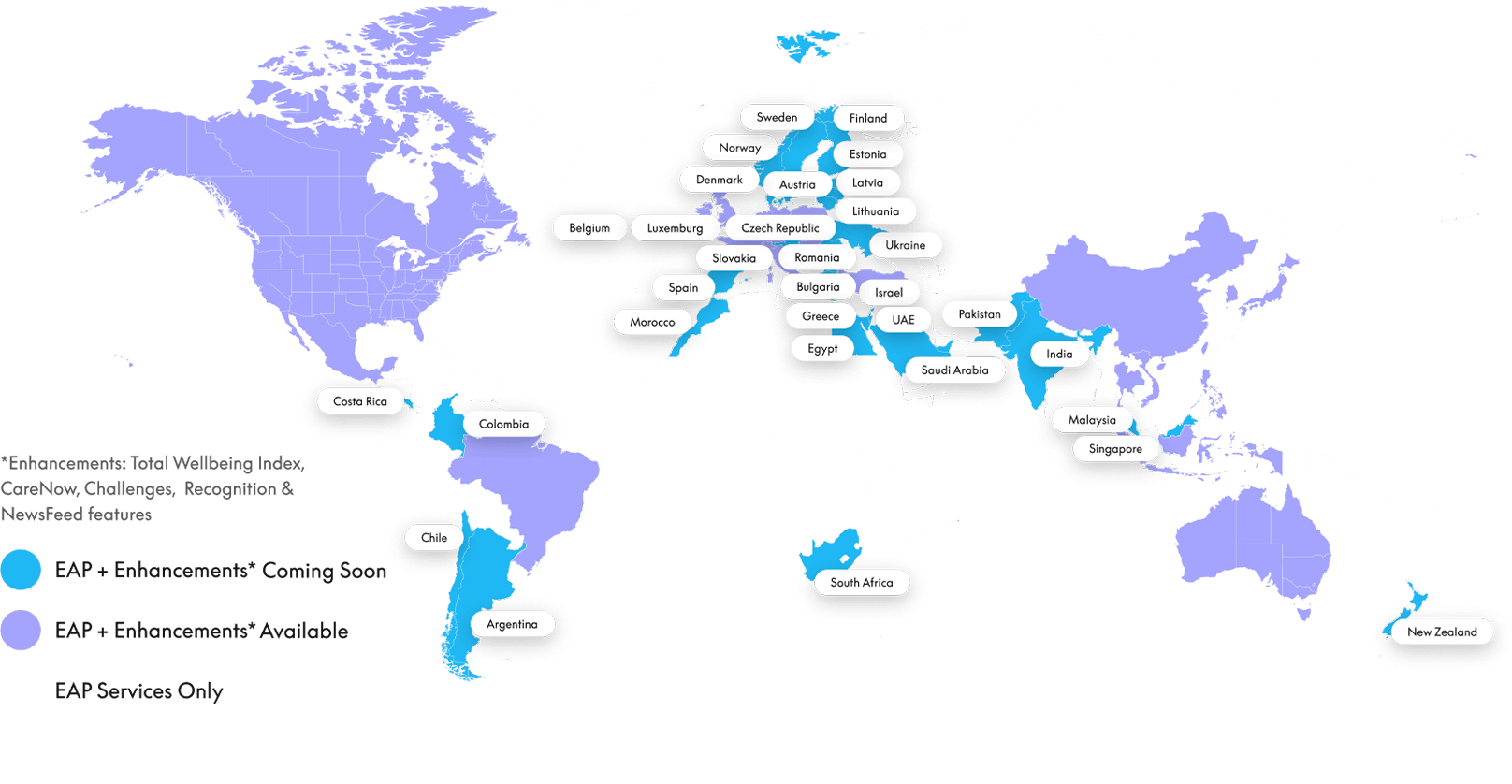 Trusted by organisations worldwide